0:00/4:35

0:00/4:33

0:00/5:34

0:00/5:09

0:00/6:57

0:00/5:20

0:00/5:12

0:00/5:15

0:00/5:08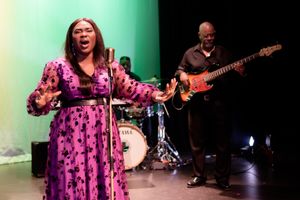 UZO OACHI
Uzo Oachi is a US-based gospel music minister with a mandate to preach the message of God's love and salvation through her music. Her journey which officially started in 2014 has touched many lives and opened many doors to amazing opportunities and collaborations. She has released many songs including "I Lift My Hands", "Heart of Worship", "Great and Mighty God", "You Are Great", "Emmanuel", and most recently, "Move of The Spirit".
About her ministry, she says "It is God's express instruction to write and share these songs for His glory". Her mandate, she explains, is to reconnect man to God through worship.
In her songs, Uzo teaches her audience about the greatness and goodness of God, and how God can change any situation no matter how bleak things may seem. Being a living testimony herself, she encourages believers to hold onto God's promises because they will surely come to pass.
The singer/songwriter resides in New Jersey, where she collaborates with other Christian artists from all over the world. Her voice which is one of the most distinctive traits about her sound, and her approach to singing is very warm, personal, and engaging.
She is set to release her debut album, Supernatural in the fall of 2023.
"The Spirit of the Lord is upon me, for he has anointed me to bring Good News to the poor. He has sent me to proclaim that captives will be released, that the blind will see, that the oppressed will be set free." - Luke 4:18
— NLT